Adapting in today's business world is HARD. You're not just a change manager tweaking a few processes here and there. You're managing people, emotions, and entire workflows.
But here's the good news: There are a TON of top-notch change management software tools out there that can help you steer the ship with finesse.
In this post, we're going to break down the absolute best change management and reporting tools in the business. We'll cover what makes each one a game-changer, their standout features, and how they can level up your game.
So, whether you're a seasoned change management expert with years of experience or just embarking on your journey, these top change management tools and software will make your life a whole lot easier.
Key Features
Change Compass is a robust change management tool designed to help organizations navigate the complexities of change seamlessly.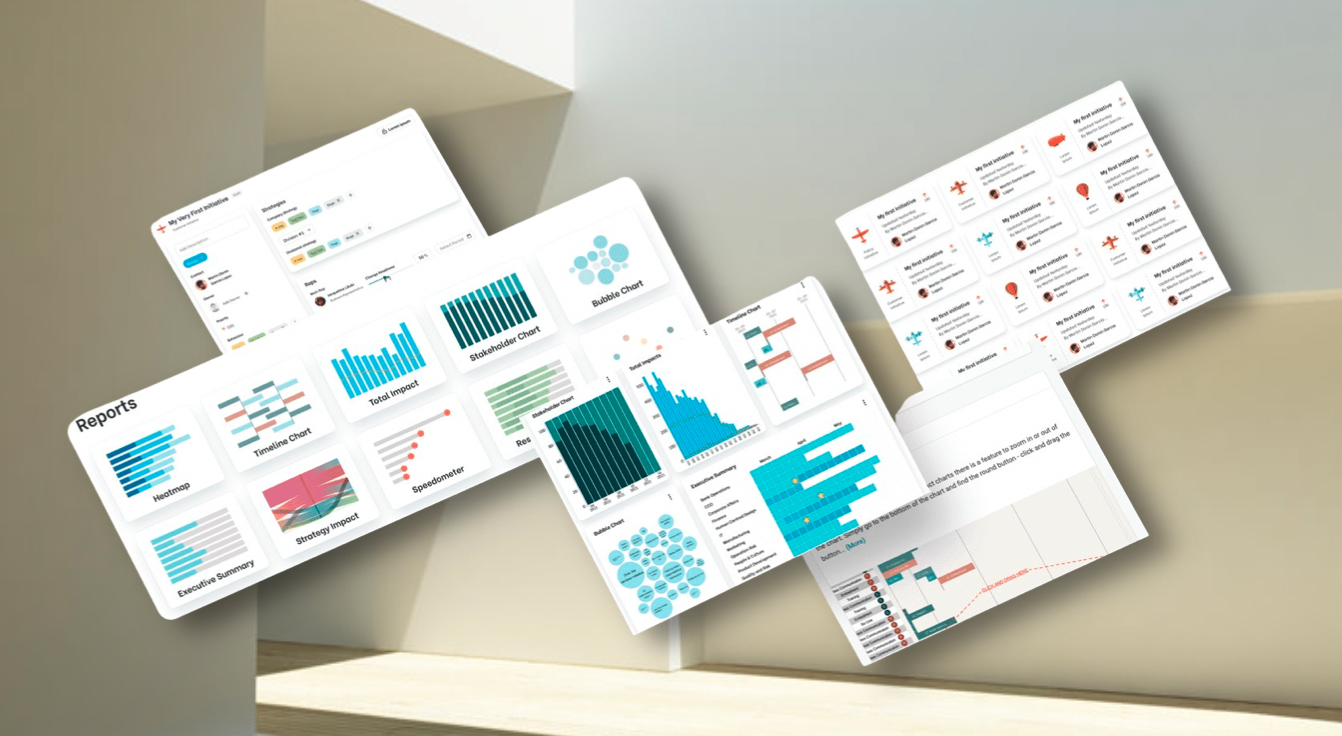 Packed with features to enhance every aspect of the change process, here are some of its standout capabilities: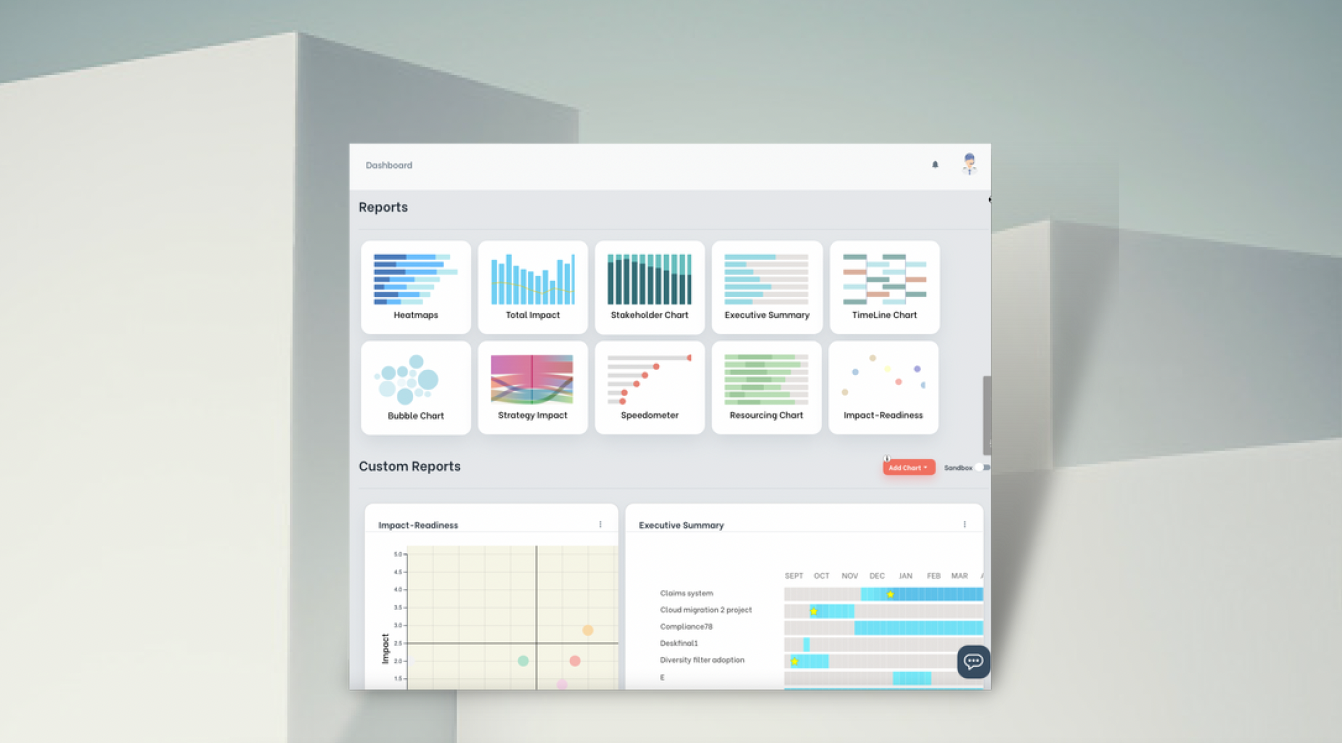 Change Compass starts with a comprehensive view of how a proposed change will affect different aspects of your organization. Change Compass employs advanced analytics to help you identify potential roadblocks, enabling you to plan and execute mitigation strategies with precision.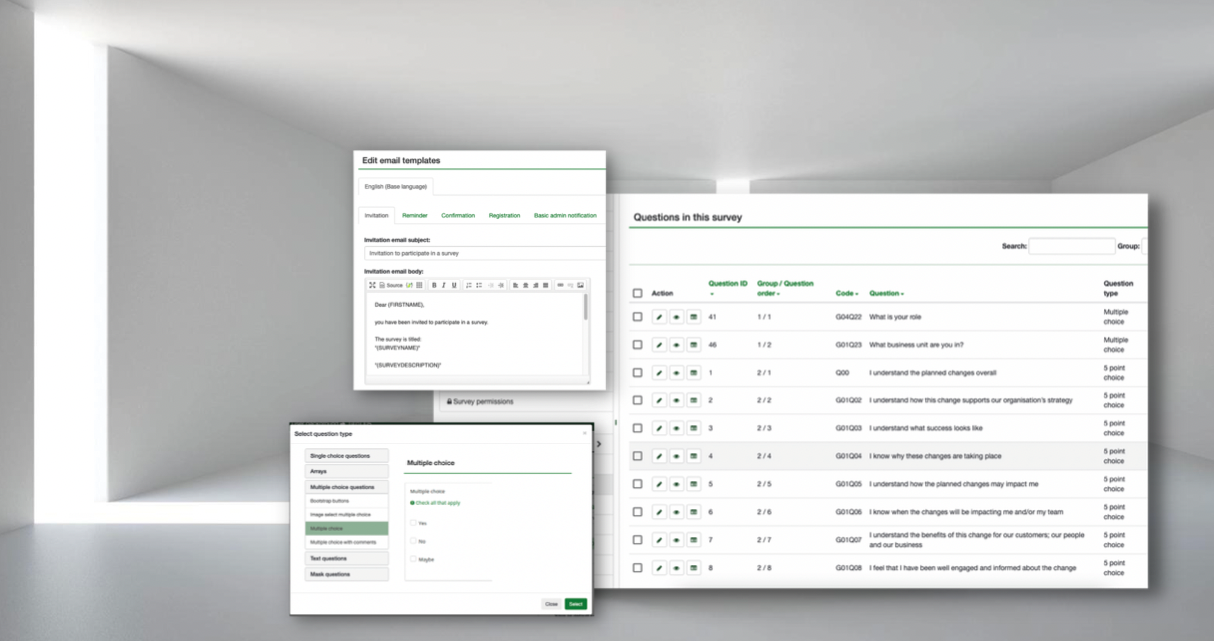 Engaging stakeholders is pivotal in any change initiative. This tool offers a range of communication and collaboration features, including customizable stakeholder surveys and feedback mechanisms to ensure that every voice is heard.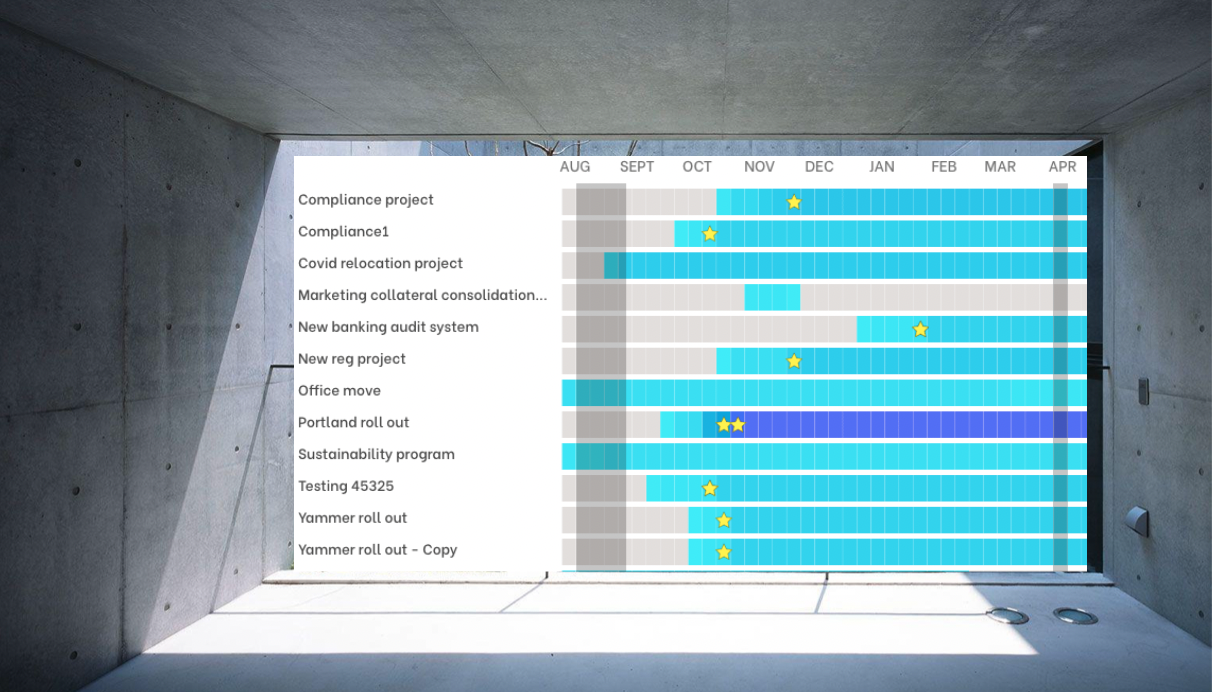 To keep your change initiatives on track and within scope, Change Compass streamlines project management. You can create detailed project plans, allocate tasks, track progress and monitor progress in real-time. This level of control ensures that your projects remain aligned with your objectives.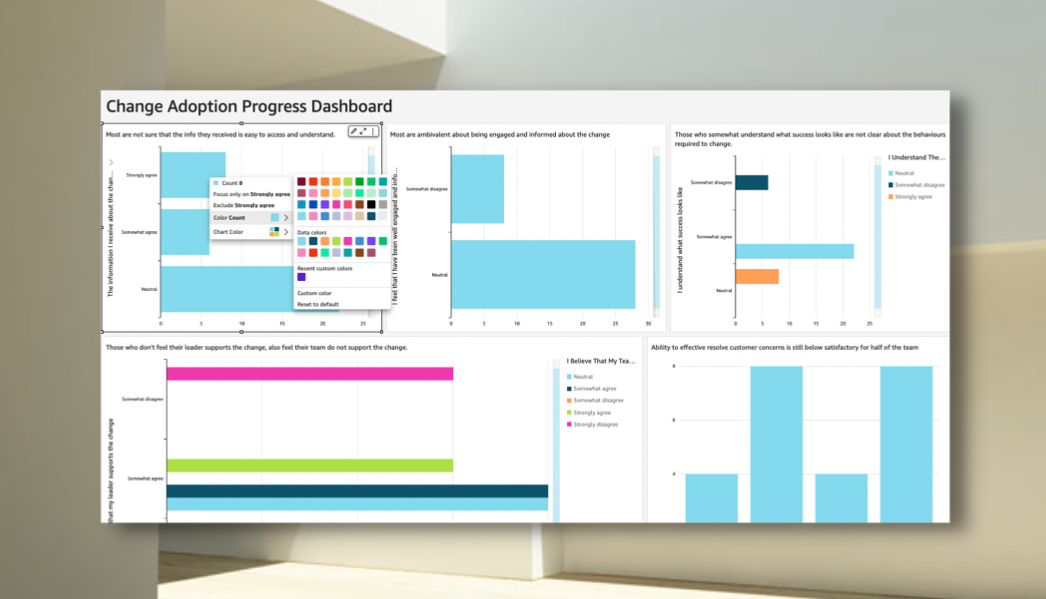 Change Compass also allows you to assess the readiness of your organization and its employees for change. It offers assessments, readiness scores, and personalized recommendations.
These tools empower you to tailor your change strategy, ensuring it aligns perfectly with your organization's unique circumstances.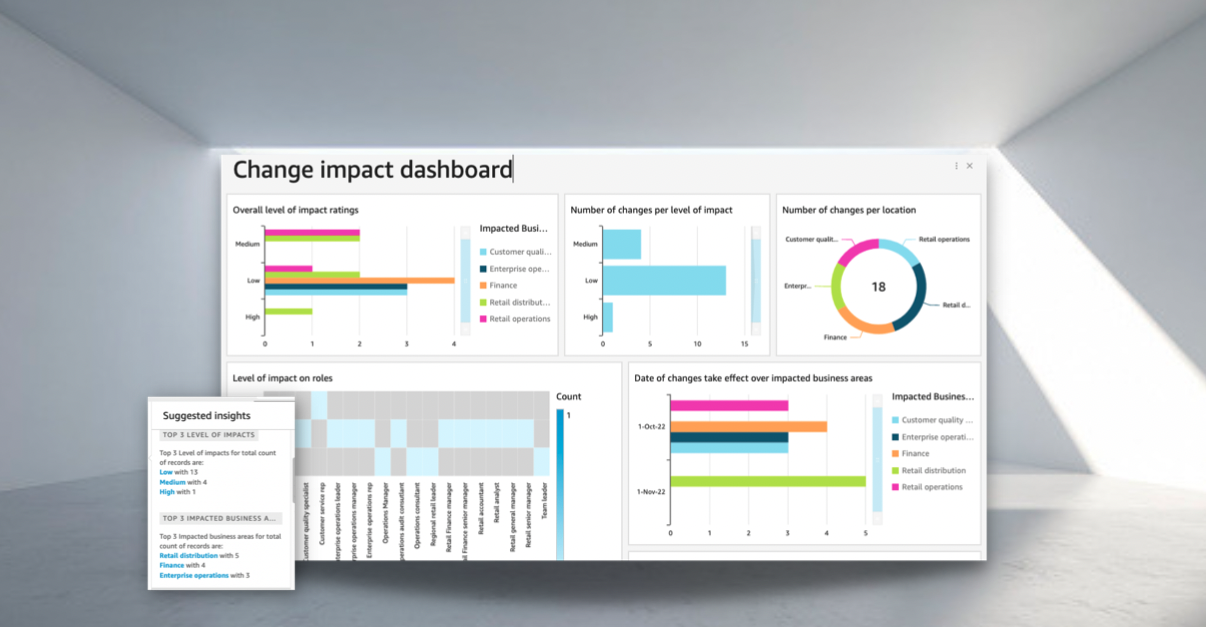 Finally, visualizing complex data related to your change initiatives becomes a breeze with Change Compass. The tool provides intuitive charts and graphs that simplify data interpretation.
Decision-makers can now have a clear and immediate understanding of critical information, empowering them to take informed actions that drive your change initiatives forward.
Pricing
Change Compass offers a flexible pricing structure tailored to your organization's needs. There are two core offerings: the Change Compass and the Change Automator.
Change Compass

SMB Plan: $595 per month

Business Plan: (Contact for customized pricing)

Enterprise Plan: (Contact for customized pricing)

Change Automator

Practicioner Plan: $200 per user per month

Business Plan: $180 per user per month

Enterprise Plan: (Contact for customized pricing)
Summary
Change Compass stands out as a comprehensive and adaptable change management solution. Its focus on change impact analysis, stakeholder engagement, project planning, and readiness assessment empowers organizations to proactively manage change with confidence.
The tool's intuitive data visualization and reporting features further enhance decision-making, ensuring that change initiatives align with strategic goals.
Bottom Line
For organizations seeking a versatile and data-driven approach to the change management process, Change Compass is a powerful ally. Its ability to analyze, plan, engage stakeholders, and assess readiness simplifies the complexities of the change management cycle, increasing the likelihood of successful outcomes.
Key Features
Change Plan is a comprehensive change management tool designed to facilitate effective planning, execution, and monitoring of organizational changes. It offers a range of features that empower change leaders and teams to drive successful transformations:
Firstly, it streamlines the creation of comprehensive change roadmaps, allowing users to effortlessly outline milestones, tasks, and timelines. This meticulous planning ensures that change initiatives follow a clear and structured path.
Change Plan facilitates a deeper understanding of change impact.
Users can assess how a change might affect various facets of the organization, including its people, processes, and technology. This analysis is a valuable tool for identifying potential risks and opportunities.
The tool also excels in task management.
Team members can be assigned tasks, deadlines can be set, and progress can be tracked in real-time. This feature ensures accountability, keeping everyone focused on achieving the project's goals.
At the heart of transformative change lies stellar communication.
Change Plan empowers this with success pulse checks. Success pulse checks offer a real-time perspective on how well the change is being absorbed and applied within an organization.
By consistently monitoring the progress of the change initiative, pulse checks help identify any emerging issues, concerns, or resistance from the stakeholders. This aids in addressing problems promptly before they escalate.
Pricing
Change Plan offers flexible pricing options suitable for organizations of various sizes. To get accurate pricing information tailored to your needs, it's recommended to contact their sales team directly.
Summary
Change Plan stands out as a user-friendly and collaborative change management tool. It empowers organizations to create and execute change plans with precision, fostering engagement among stakeholders and facilitating effective communication.
The tool's ability to assess change impact and monitor progress ensures that change initiatives remain on track and aligned with strategic objectives.
Bottom Line
Change Plan is a valuable addition to the toolkit of organizations committed to successful change management. Its user-friendly interface, collaborative features, and robust planning capabilities make it a powerful asset for change leaders and teams.
Key Features
WalkMe is a leading digital adoption platform that offers a range of features aimed at simplifying change management and enhancing user experiences. Here are some of its standout capabilities:
Navigating new applications or adapting to process changes can be daunting.
WalkMe's Digital Adoption Platform (DAP) provides step-by-step guidance to users within applications and software. This feature is invaluable for onboarding new users and guiding them through process changes.
With WalkMe's real-time analytics, you can gain deep insights into user behavior and engagement. This powerful tool enables you to understand precisely how users interact with your digital assets (and where they struggle).
By identifying areas where additional support, training materials or adjustments may be needed, you can fine-tune your change management strategies for optimal results.
Users are empowered with an array of self-service tools, including intuitive walkthroughs, comprehensive tutorials, and knowledge bases. These resources instill confidence in users, enabling them to tackle challenges head-on and seamlessly adapt to evolving landscapes.
Synchronize WalkMe with your existing systems to breathe life into automation. By streamlining routine tasks and meshing seamlessly with your other automated workflows, it not only simplifies change management but also propels overall efficiency to new heights.
Pricing
WalkMe's pricing is categorized into either WalkMe for employee experience or WalkMe for customer experience. To get a detailed quote, it's advisable to contact WalkMe's sales team directly.
Summary
WalkMe stands out as a game-changing digital adoption platform that complements traditional, change management systems and approaches. Its ability to provide real-time guidance, analytics, and self-service resources empowers organizations to enhance user adoption of new technologies and processes.
By segmenting users and automating workflows, WalkMe ensures that change initiatives are tailored for maximum impact.
Bottom Line
For organizations striving to drive digital transformation while maximizing user adoption and minimizing resistance, WalkMe is a powerful ally. Its innovative digital adoption solutions make it easier for users to adapt to change, ultimately accelerating the ROI on technology investments.
Key Features
WhatFix is a versatile change management toolkit that specializes in digital adoption and employee training. It offers a suite of features designed to streamline change management processes and maximize user engagement.
First, let's delve into Interactive Walkthroughs.
WhatFix empowers organizations to create interactive, on-screen walkthroughs and tutorials. These intuitive guides are designed to lead users through new business processes and applications, drastically reducing the learning curve associated with change.
This feature simplifies training, ensuring that users quickly adapt to new workflows.
With WhatFix's In-App content creation tools, users can make effective contet right away. These content serve as valuable roadmaps, guiding users through critical steps and helping them efficiently complete tasks in alignment with the change process.
WhatFix doesn't just facilitate change; it provides the means to understand it better.
By offering deep insights into user behavior and performance, WhatFix's analytics unveil valuable data on user engagement, areas of difficulty, and opportunities for improvement.
Armed with these insights, organizations can fine-tune their change strategies with precision, ensuring that they evolve in lockstep with user needs and expectations.
Pricing
WhatFix's pricing is categorized into standard, premium, or pro plans. To obtain detailed pricing information tailored to your organization's needs, it is recommended to reach out to WhatFix's sales team directly.
Summary
WhatFix excels in simplifying the user adoption of new technologies and the change implementation processes through interactive on-screen guidance. By providing analytics and user insights, organizations can continuously refine their change management strategies, ensuring that they align with user needs and preferences.
Bottom Line
For organizations embarking on digital transformation journeys or seeking to enhance user engagement during change initiatives, WhatFix offers a powerful solution. Its interactive walkthroughs and in-app task lists simplify training and increase user adoption.
Key Features
Notion, primarily known as a versatile productivity and collaboration platform, has emerged as a valuable tool for change management.
Its robust feature set includes elements that can greatly enhance change initiatives:
At its core are customizable workspaces, allowing organizations to craft dedicated spaces for different change projects. Within these spaces, project plans, documentation, and collaborative resources find a unified home, ensuring that every stakeholder has easy access to the essential information required for successful change initiatives.
Complementing this is Notion's robust documentation and knowledge Sharing capabilities. It serves as an ideal repository for change-related documents, policies, and guidelines.
Teams can collaborate on documents in real-time, fostering an environment where everyone is consistently on the same page.
To maintain order during change, Notion offers task and project management features too. With customizable boards, lists, and calendars, organizations can efficiently organize and track change-related tasks and milestones, ensuring that projects stay on course and deadlines are met.
Finally, Notion enhances collaboration and communication with its real-time features. Comments and @mentions facilitate effective communication among team members and business stakeholders.
This fosters transparency during the change management process, ensuring that everyone is in the loop, and feedback is shared seamlessly, ultimately driving the success of change initiatives.
Pricing
Notion provides a flexible pricing structure with options for both free and paid plans. The paid plans offer more advanced features and collaboration capabilities, which are categorized into three tiers.
Plus: $8 per user / month

Business: $15 per user / month

Enterprise: (Customized Pricing)
Notion also offers an optional AI add-on for $8 per member per month.
Summary
Notion's versatility as a collaboration and documentation platform makes it a compelling choice for organizations seeking an all-in-one solution for their change management initiatives.
Its ability to create customized workspaces, manage tasks, and foster collaboration simplifies the process of planning, executing, and monitoring change initiatives.
Bottom Line
For organizations that value flexibility and a centralized approach to change management, Notion is a versatile tool that can help streamline the entire change process further. Its customizable workspaces and integration options ensure that all aspects of change initiatives are well-organized and accessible.
Key Features
Eletive is a tool designed to help with employee engagement, performance management, and change management within organizations. Here are the features of Eletive that are useful for change management:
Eletive offers customizable assets and resources to help drive its adoption within organizations. This includes:
Slide decks

Email templates

Videos introducing Eletive to employees

Communication plans and best practices

QR code posters with KIOSK codes for easy survey participation
The Eletive Academy stands as a central hub, providing a multitude of resources like an on-demand video library and specialized training videos for managers and administrators. Certifications further ensure that key personnel are equipped with profound knowledge of the platform.
Finally, the robust support system led by the Customer Success team, supplemented by onboarding expertise, strategic guidance, and technical assistance, guarantees a smooth transition and efficient integration and maintenance of Eletive's programs.
Pricing
Eletive's pricing plan is categorized into essential, standard and professional. For detailed and accurate pricing information tailored to your organization's needs, it is recommended to contact Elective's sales team directly.
Summary
Eletive stands out as a comprehensive platform dedicated to amplifying employee engagement, bolstering performance management, and streamlining change management within organizations.
Eletive aims to empower organizations to plan and execute successful transformations efficiently.
Bottom Line
Eletive is not just a tool but a holistic solution, making change management smoother and more effective. Its blend of customizable assets, educational resources from the Eletive Academy, and a dedicated support infrastructure ensures that organizations are well-equipped to drive meaningful change and witness transformative results.
Key Features
Miro is a versatile online whiteboard platform that is increasingly used for both change management projects and collaborative work.
Miro allows teams to collaborate on virtual whiteboards, making it ideal for brainstorming, planning, and mapping out change strategies visually.
To further streamline the asset management process, Miro provides a wealth of templates and frameworks uniquely tailored for change management. These templates empower teams to structure their ideas and plans effectively, saving valuable time and ensuring that change strategies are built on solid foundations.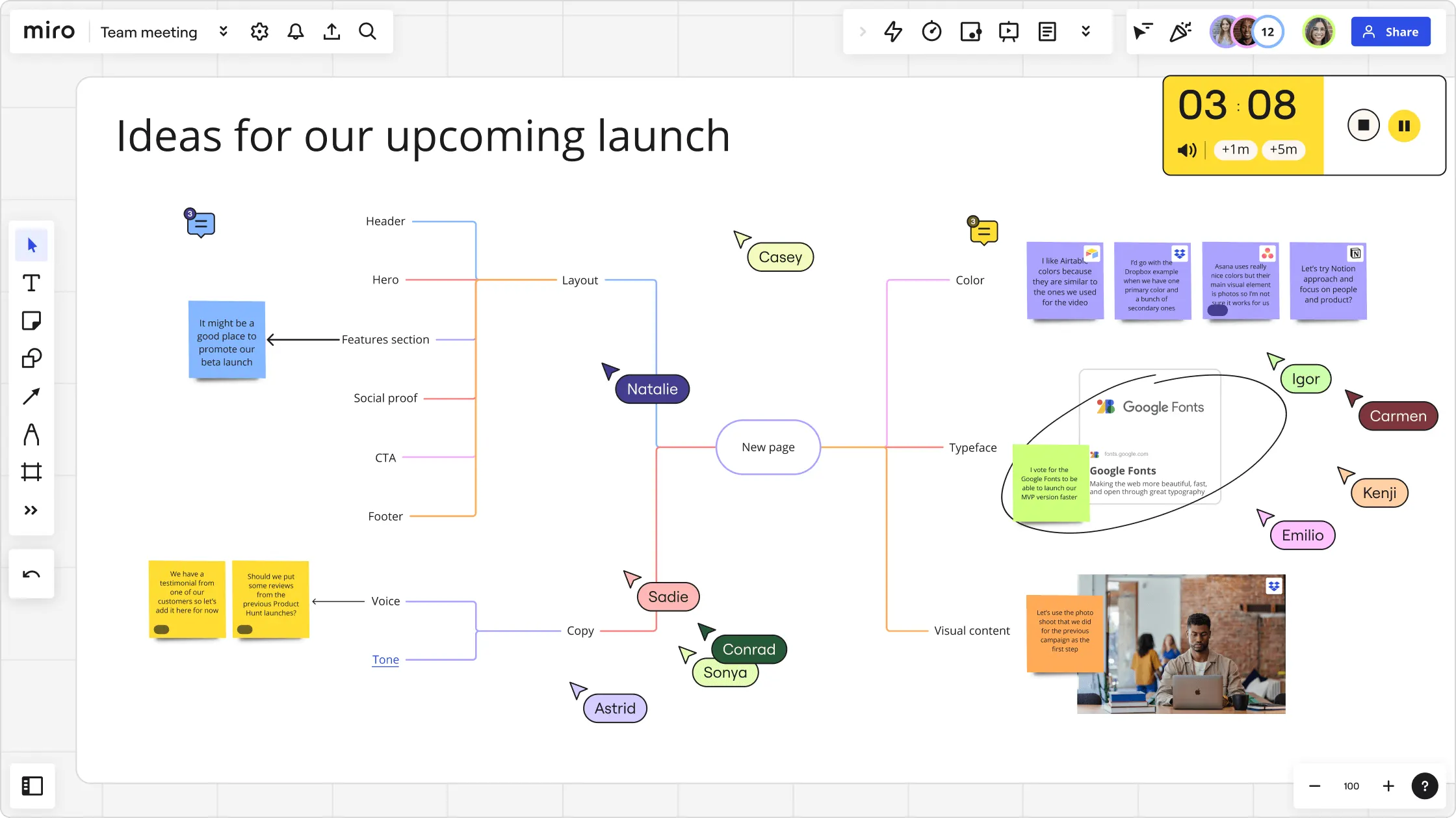 Real-time collaboration takes center stage, allowing multiple team members—whether they're across the room or across the globe—to work seamlessly together during all change processes and projects. This inclusivity and instant interaction significantly enhance the efficiency of all change processes and initiatives.
Finally, Miro elevates communication and engagement with its ability to create interactive presentations. These presentations are not just static slides; they are dynamic and engaging, enhancing communication with stakeholders throughout change initiatives.
Miro ensures that every message is not only heard but also visually impactful.
Pricing
Miro offers different pricing plans, including a free version with limited features and paid plans for more advanced collaboration and integration capabilities. To get specific pricing details, it's advisable to visit Miro's official website or contact their sales team.
Free Plan

Starter Plan: $8 per member per month

Business Plan: $16 per member per month

Enterprise Plan: (Customized pricing)
Summary
While Miro is primarily a visual collaboration platform, its flexibility and adaptability make it a valuable tool for change management. It fosters creativity, enhances communication, and enables teams to collaborate effectively, whether they are co-located or distributed.
Bottom Line
Miro is an excellent choice for organizations that prioritize visual thinking and collaboration in their change management efforts. Its virtual whiteboards and real-time collaboration features can streamline planning and execution, making it easier to navigate change successfully.
Key Features
Mural is another visual collaboration platform designed to facilitate creative thinking, innovation, and change management.
It revolutionizes the landscape of organizational change management by providing an expansive toolkit designed to enhance collaboration, creativity, and efficiency.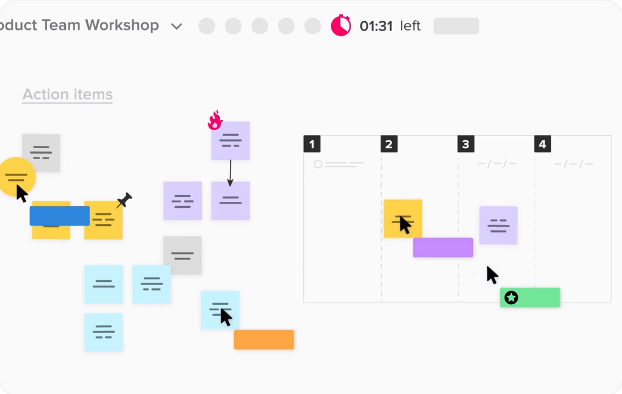 First and foremost are digital whiteboards, the digital canvases where teams gather to brainstorm, design, and collaboratively plan change initiatives. These virtual whiteboards serve as dynamic spaces where ideas flow freely, setting the stage for innovative change strategies.
Complementing this are templates and facilitation tools that Mural offers. These valuable resources empower teams to structure their change strategies, workshops, and design thinking sessions with ease.
These tools foster organization and ensure that change initiatives are grounded in solid planning.
With Mural's real-time collaboration feature, multiple team members can collaborate in real-time, allowing for distributed teams to work together effectively.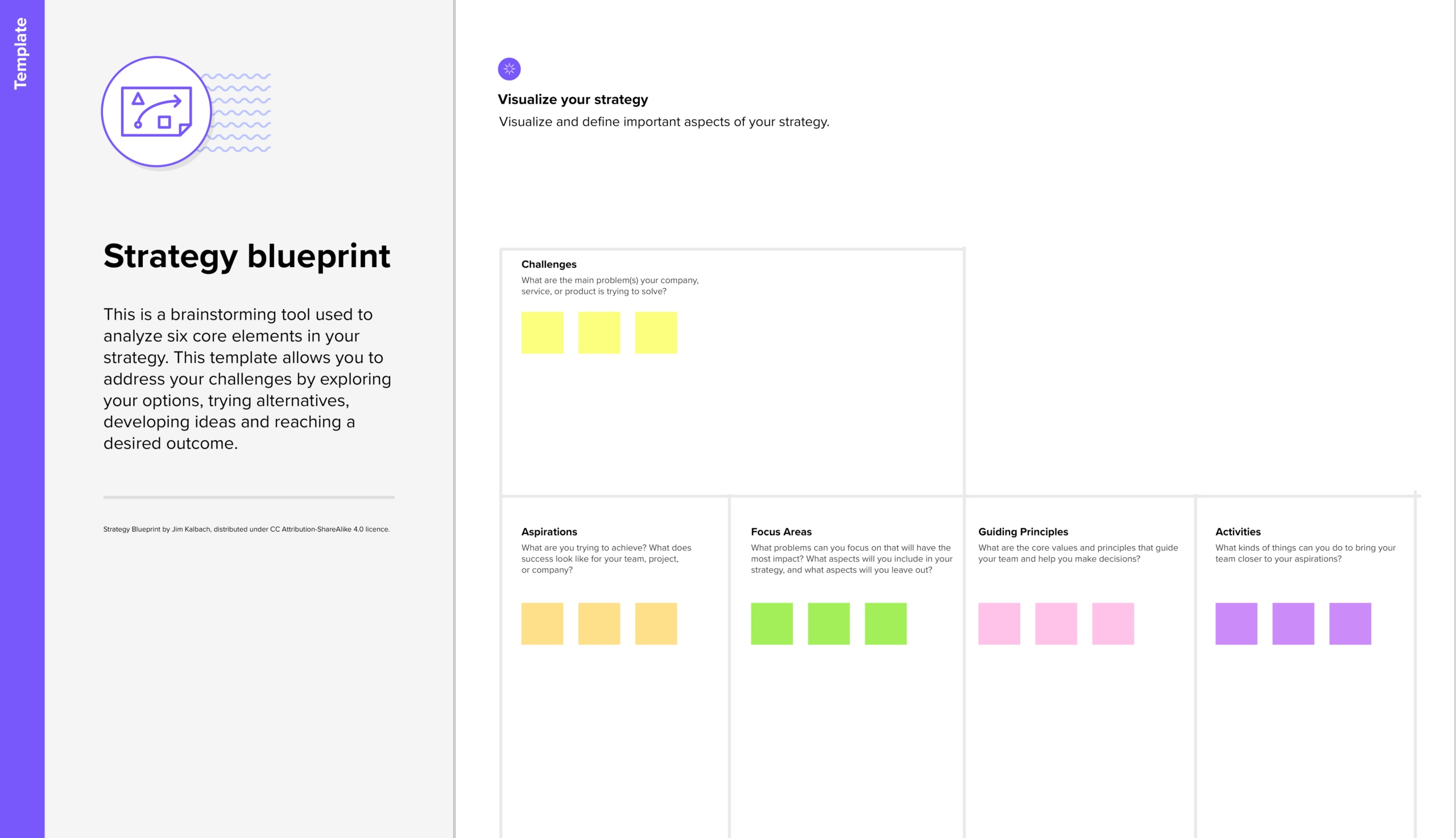 At the heart of it all is visual thinking, a philosophy that Mural actively encourages. Visual thinking makes it easier for teams to map out processes, identify challenges, and explore creative solutions during change projects.
By embracing visual thinking, Mural helps organizations transcend the confines of traditional change management, infusing it with creativity and innovation.
Pricing
Mural offers pricing plans suited for different organizational needs.
Free Plan

Team + Plan: $9.99 per member per month

Business Plan: $17.99 per member per month

Enterprise Plan: (Customized pricing)
Summary
Mural is a valuable tool for organizations that embrace visual collaboration as part of their change management approach. Its digital whiteboards and facilitation tools can enhance creativity and problem-solving during change initiatives.
Bottom Line
Mural's focus on visual collaboration and innovation makes it a suitable choice for organizations seeking a creative and engaging change management tool. Its flexible pricing options accommodate various team sizes and needs. Incorporating Mural into your change management processes can help inspire fresh ideas and streamline collaboration, ultimately contributing to successful change outcome.
Key Features
CultureAmp is a specialized change management software tool focused on employee engagement, performance, and company culture.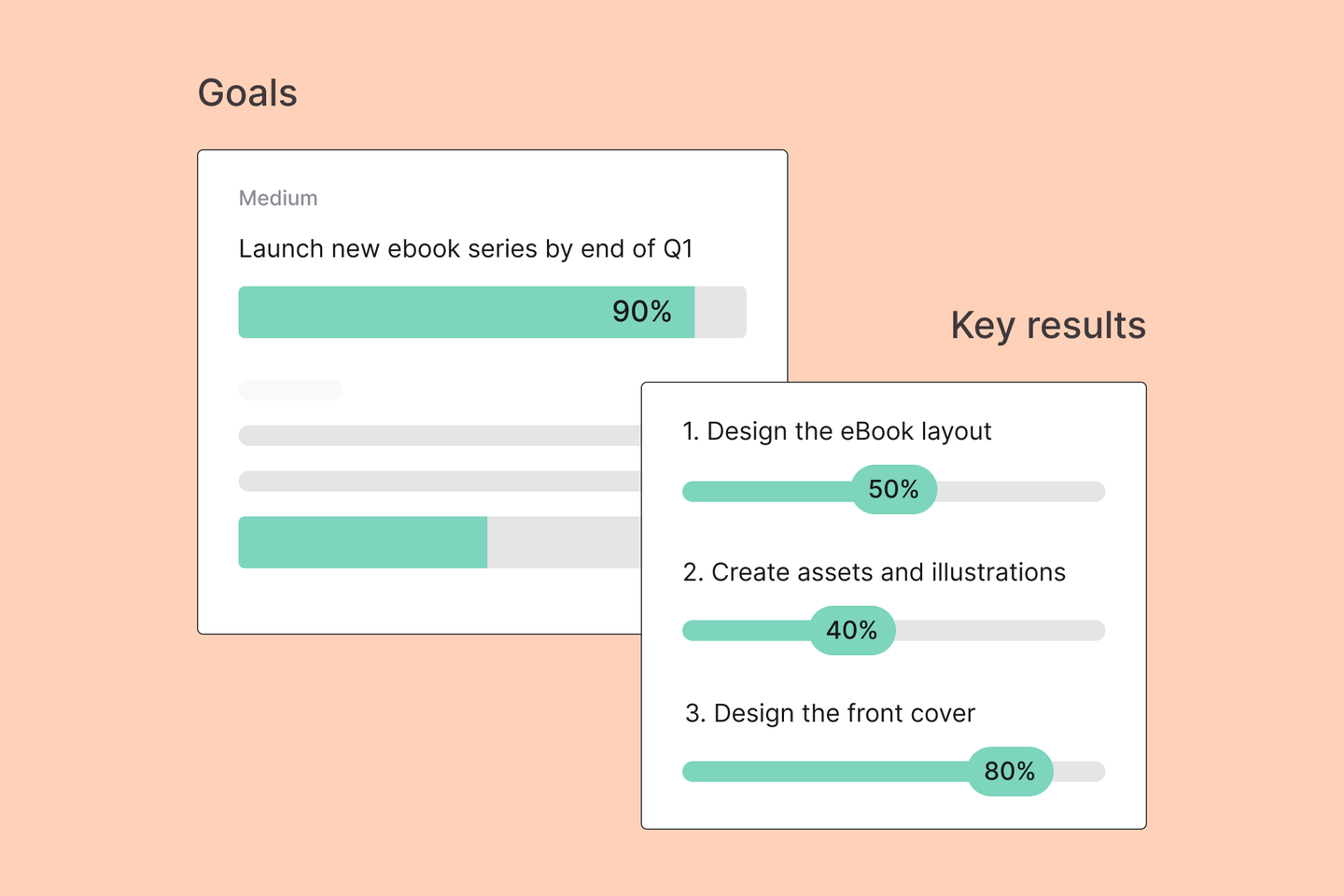 It provides a range of features tailored to foster a positive cultural shift and ensure the success of change initiatives: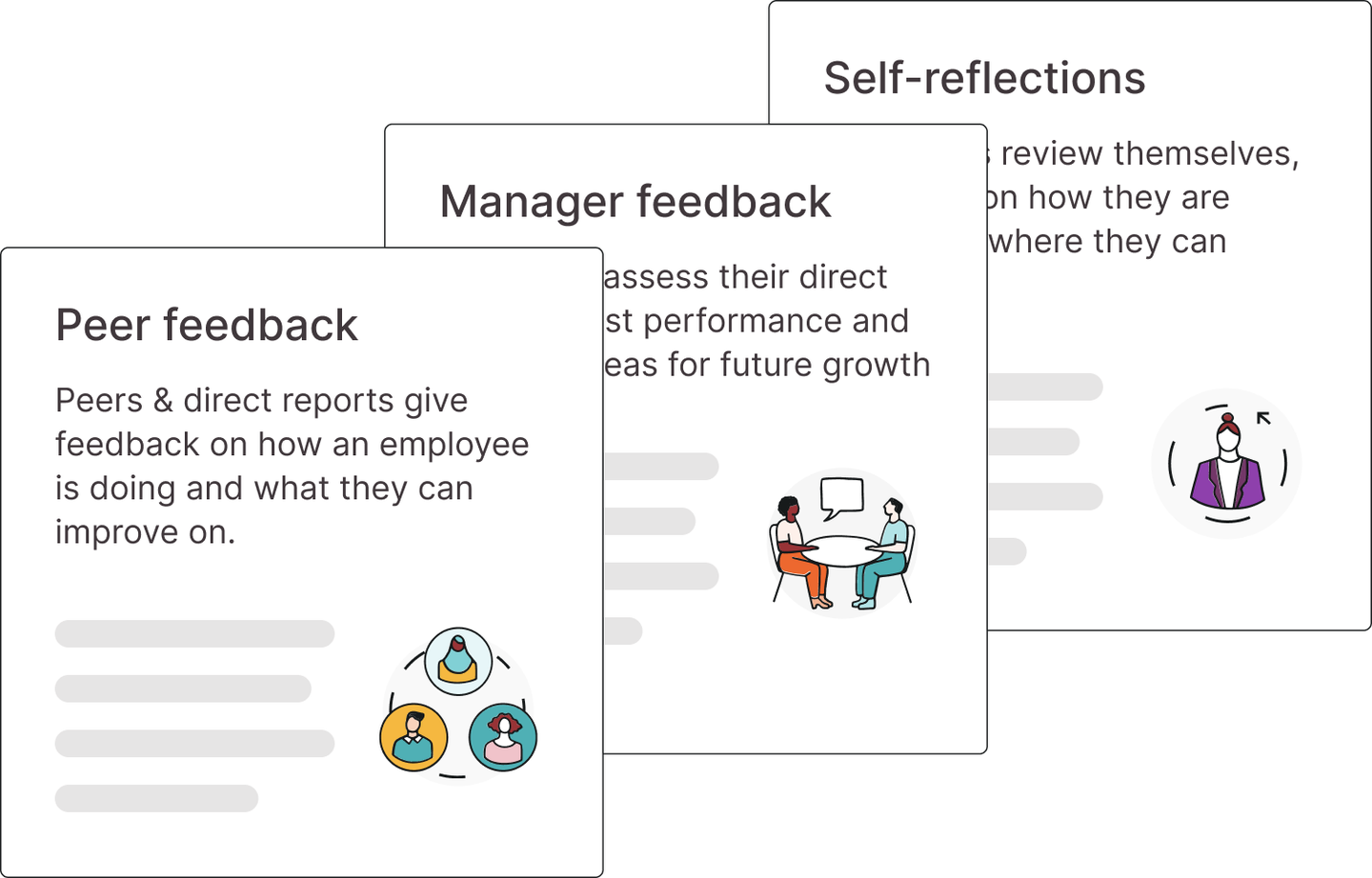 CultureAmp allows organizations to create and distribute surveys, acting as a pulse check on employee sentiment and feedback. These surveys are vital in comprehending how employees perceive and adapt to change, shedding light on potential areas of concern.
Complementing this is the platform's ability to capture real-time feedback, ensuring that concerns are not only heard but addressed promptly during the ever-evolving landscape of change initiatives.
CultureAmp provides powerful analytics tools that transform survey data into actionable insights. These insights help organizations make data-driven decisions and tailor change strategies to meet specific employee needs.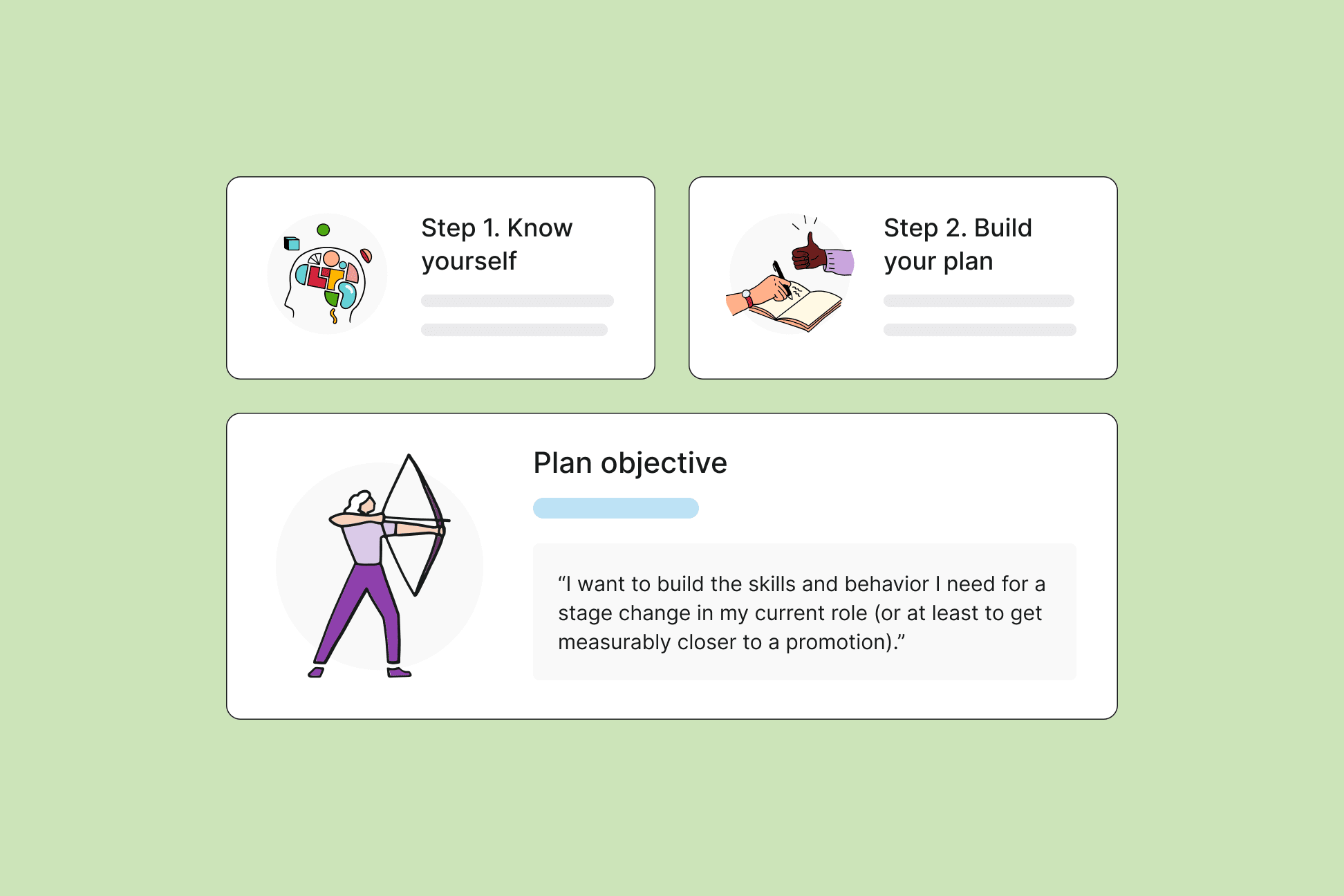 The platform's performance management features further align individual and team performance with strategic goals. This alignment enhances accountability and engagement during change, making sure that everyone is contributing to the organization's overall success.
Finally, CultureAmp encourages focus and alignment through goal setting and tracking. Individual and team goals can be set, tracked, and updated in real-time. This feature ensures that employees remain steadfast and aligned with organizational objectives, even during the turbulence of change.
Pricing
Culture Amp offers custom pricing tailored to enterprise requirements. Their detailed pricing information can be acquired through a quote request.
Engage (Customized pricing)

Perform (Customized pricing)

Develop (Customized pricing)

Engage + Perform + Develop (Customized pricing)
Summary
CultureAmp stands out as a change management tool that places a strong emphasis on employee engagement and cultural transformation. By leveraging employee surveys, real-time feedback, and performance management, organizations can ensure that their change initiatives are aligned with employee needs and drive a positive cultural shift.
Bottom Line
For organizations prioritizing employee engagement and culture during times of change, CultureAmp offers valuable insights and tools to foster a supportive environment. Its robust features for surveying, feedback collection, and performance management help ensure that change initiatives are well-received and lead to lasting positive outcomes.
Conclusion
Navigating change is undeniably challenging. However, the silver lining is this: a wealth of exceptional change management tools is at your disposal, ready to assist you in navigating these complex waters with finesse.
In this comprehensive guide, we've handpicked the best change management tools available in the market. We've dissected what sets each tool apart, highlighting their standout features, and demonstrating how they can elevate your change management game to new heights.
With these top-notch change management tools and software solutions in your arsenal, leading change becomes a more straightforward and efficient process.