Today, I'm going to share with you what I've learnt about the principles of continuous improvement, which have nothing whatsoever to do with methods, tools or techniques.
Not that they aren't important. But to really have an impact, having these principles as the background context will be what makes the difference.
Since the start of my consulting career, I've tried every continuous improvement technique under the sun.
I started with Lean, Six Sigma, but was disappointed with the diminished localised impacts.
Then I moved onto Theory of Constraints… this methodology definitely has the ability to make large and very global impacts to a business, but it so counter-intuitive it's hard to get people to listen let alone give it a try.
Finally, I moved into change management, which is unique from project management and is now the bulk of the consulting and contracting work I do.
Four Principles of Continuous Improvement are as follows:
Principle 1: Stop fixing and start improving
---

The first of the principles of continuous improvement is that too much focus on process and their methodologies stifle innovation and creativity. Instead, stop focusing on methodologies and instead focus on improving.
Often the underlying context when organisations roll out process improvement methodologies is problem-solving and fixing what's broken.
Lean is not about applying a set of tools. Rather, it involves adopting a set of principles to how you run and improve your business. When organisations approach Lean as a set of 'tools' to be deployed, they often fail to achieve the results they are capable of. This is a result of a rigid and tactical adherence to a set of tools and frameworks, instead of adopting the basic principles of Lean.
In most cases, the businesses are trying to restore previously held performance. For example, an individual or department's performance has slipped, or in manufacturing environments perhaps equipment has failed.
3M takes up Six Sigma and pays the price
Take 3M for example, long a leader and oft cited for its innovation, employed Six Sigma as a strategic enabler when the then new CEO James McNerney, from GE, came onboard in 2001. He cut costs, trained thousands of employees in the method and demanded rigorous process metrics on R&D.
During his tenure to 2005, they indeed cut costs and improved efficiencies, but at a cost. A key measure for 3M is the revenues made from products that didn't exist three years prior. Typically it sat at around 30%. During McNerny's time at the helm, it reduced to 21 percent.
Efficiencies were indeed made, having improved margins by some 17 percent, but at the detriment of innovative new products.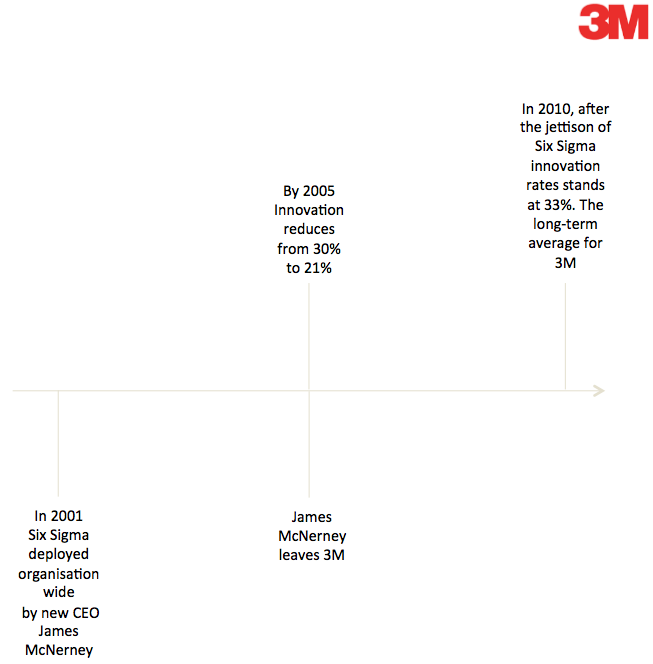 Problem-solving is not the opposite of innovation and it is not necessarily mutually exclusive. After McNerney's departure for Boeing in 2005, 3M still kept Six Sigma as a tool for improving their manufacturing efficiencies but left it out of the rest of the organisation where instead they instituted a significant innovation program once again.
They set up small, cross-functional teams who were moved away from their existing departments to network and collaborate on new projects across the organisation. Each new contact offered a new opportunity to redefine important attributes of future market demand and/or innovative approaches.
3M went on to create a safe environment allowing people to take risks and allowed the time required to develop novel, hopefully, revolutionary strategies, products and services that change the basis of competition in the markets applied, and in 2010 their percentage of sales from new products was back at 30% and growing.
Assess your organisation's focus
Consider your own organisation using this simple diagnostic. Imagine a pie chart, and divide it into the amount allocated to problem solving versus innovation.
Is it 90/10 to problem solving, or more like 65/35 to innovation?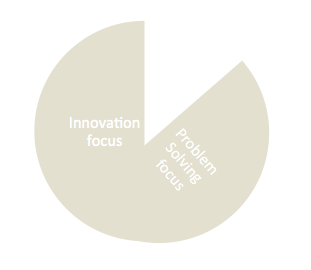 Most organisations reward the problem-solving and penalise innovation since risk is inherent. Ask yourself if your organisation is close to a 50/50 ration in their focus on these two elements (the focus is usually 95/5 in favour of problem-solving).
Thoughts into action